The abuse and inappropriate use of antibiotics has contributed to the ANTIBIOTIC RESISTANCE of bacteria, always less sensitive to treatments. The topic is now covered worldwide. Also, for this reason, it is important to look for meat bred without the use of antibiotics
The project was born in 2017 from a collaboration between Fratelli Riva and historical suppliers having, together, this same target. Following improvements in the breeding and selection of pigs, we finally obtained the necessary raw material suitable for our project.
The first product born from this project is cooked ham.




POLYPHOSPHATE ADDITIVES FREE


"BY ENSURING PIGS A HEALTHY LIFE WITHOUT EVER USING ANTIBIOTICS, THE ADVANTAGE IS ALSO OURS BECAUSE EVERY ANIMAL THAT LIVES WITHOUT THESE DRUGS IS A VICTORY IN THE GLOBAL FIGHT AGAINST ANTIBIOTIC RESISTANCE."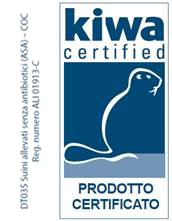 MAIALINO D'ORO
High Quality
Obtained with legs of pigs without the administration of antibiotics since birth.
Only the best selected fresh thighs, flavoured with infusion of only natural taste, herbs and spices.
In 2021 the high quality cooked ham of the Maialino D'Oro line is certified by the Kiwa body as "from pigs raised without antibiotics FROM BIRTH"
NUTRITIONAL VALUES FOR 100g OF PRODUCT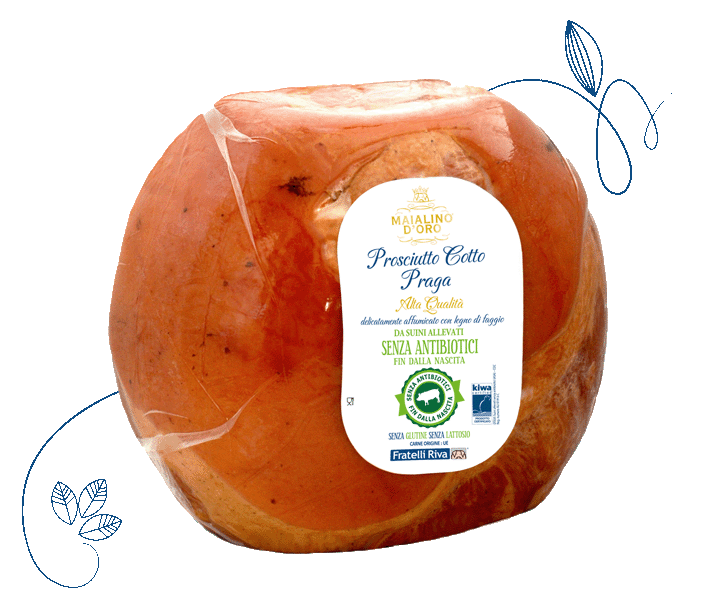 SMOKED AVAILABLE
Gently smoked with wooden chips in dedicated ovens.
Meat gets a bright pink-gold colour and a tasty and tempting flavour. The tastiest of all cooked ham.
COLD CUTS "Without antibiotics from birth"
Alongside the whole cooked hams, we have  also the new cold cuts: CHICKEN and TURKEY Without antibiotics from birth.
The claim "bred without the use of antibiotics" is based on the Unaitaliaal specification to which our supplier adheres.
The independent body in charge of carrying out the controls on the specification is CSQA Certificazioni Srl, which carries them out according to a specific plan